The condition your hair and skin is in can also say a lot about your health. A big majority of people have dry, coarse, dull, brittle or greasy hair. There's only a few fortunate people with beautiful hair in perfect condition.
The conditions that can affect our hair is our diet, chemical reactions, emotional stress, genes, hormonal changes and trauma.

Oily hair
If you have oily hair it's more then likely that your hair looks dull and lank, it's difficult to style, is prone for dandruff and feels and looks oily even after washing it with shampoo. Oily hair is the complete opposite to dry hair and it's main care is to strip away the excess oils. Washing your hair with shampoo has to be done very frequently. You can't leave your hair longer then a day or two without washing. When you put conditioner on your hair stick to the ends and avoid putting it on the roots, make sure you wash out the conditioner properly. Some people use apple cider vinegar, lemon juice, or beer as home treatments to strip excess oils of there hair. If you decide to do the same remember to dilute them with some water before applying it to your hair. It might also be more beneficial if you wash your hair with lukewarm/ cool water rather then hot as it can cause excess oils. Lastly people with oily hair need to avoid touching/ playing with there hair on a daily bases as the oils you pick up on your hands you will transfer on to your hair causing your hair to become oily.
Dry hair
If you have dry hair it's more then likely that your hair is prone to develop split ends, prone to be frizzy, easy to break, brittle, thick, rough or coarse. If you suffer with dandruff or scalp irritation you might also have dry hair. To care for your dry hair use moisturising hair treatments to add oil and moisture that your hair and scalp has lost. Use specialised shampoo for your dry hair once or twice a week, avoid washing your hair everyday as it can strip away the little oil your scalp has before it can rebuild its natural oils. Try using leave in conditioner and other hair treatments in between wash's to keep your hair more moisturised between washes. If your hair is dry you really want to stay away from dyes, bleach's, and hair treatments as much as possible.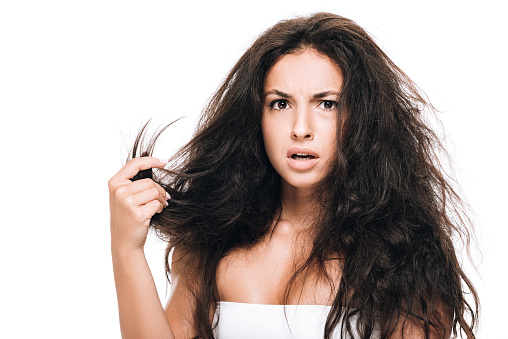 Normal hair
People with normal hair is very lucky as it's somewhere in the middle of oily and dry hair and most people don't actually have it regardless of the name 'normal hair '. The PH of the scalp is normal and healthy. Normal hair doesn't tend to be extremely frizzy or greasy, as well as it produces an average amount of oil. It looks healthy and shiny and can go least a couple days without washing it. Normal hair doesn't tend to have a lot of hair loss, dandruff, split ends, brittle or beak easy. Luckily if you have normal hair then it doesn't need a lot of special attention. Majority of people will just need to use good quality products when washing and conditioning. Having a regular regimen of washing and conditioning your hair with a healthy diet and the proper vitamins